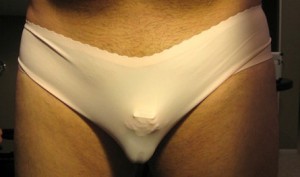 Who says you can't take an outwardly alpha male and transform him into a well-tamed, obedient panty boy? After just a few weeks of panty boy phone sex training, this formerly self-centered, sexually inadequate man is now not only securely locked in a chastity device, wearing panties every day and sleeping in a babydoll nightie every night but loving it too. He even has an appointment on Saturday for full body laser hair removal.
From his email on Monday:
"Pink hiphuggers for your panty boy today. We've got customers in town today so I'll be making a presentation in the boardroom. I'm not sure why but every time I've gone in the boardroom for a meeting this month it turns me on to think about the fact that I'm wearing panties.
So many meetings in there turn into these mental dick-measuring contests and ego stroke-fests and when needed I am quite the pitbull. Little do they know you've turned me into a poodle instead… "
Isn't it great what a little panty boy phone sex training can accomplish?