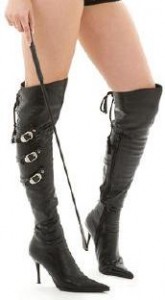 I was visiting some friends the other day and on my way home, I noticed that a new tack shop had opened in the neighborhood. I've been wanting to get a new crop so I decided to stop and see what they had.
Apparently they'd just opened and had their store all staffed up for an onslaught of customers that hadn't arrived. It looked like I was the only customer in the store. When I walked in, there were four clerks standing near the door greeting me and eagerly asking if they could help  me.  I told them I just wanted to look around and went off alone in search of the crop aisle.  I spent a little while going through the selection of crops, examining the tips on each, swishing them through the air, and so on.  Then another employee approached me and asked if she could help me and I told her no also.  After a few minutes, I picked the one I wanted and brought it up to checkout area at the front of the store where there were three smiling clerks waiting to ring up my purchase.
"Just the crop today?  Anything else we can help you with? We have a few grand opening sales."
"No, just the crop. Thanks."
She rang up the crop and put it in a bag.  She handed me a coupon, telling me it was good for 10% off on riding boots.  I hesitated for just a second but said thanks and took it. Then one of the other clerks at the counter pulled another bag from a pile at the far side of the counter and handed it to me too, telling me it was some complimentary products to try.  The bag was heavy and I looked inside.  A bag of some kind of horse food, a bottle of horse vitamins and ….. well, you get the idea.
A wicked impulse came over me and I just couldn't stop myself. I looked up, pushed the bag back across the counter and said "Thank you, but I don't have a horse".  I  gave them a big smile in return for their startled expressions,  then picked up my crop and walked out.
So is that what they mean by the expression "don't scare the horses"?