I just saw this and like it so much, I had to post about it.
If you're one of my phone domination callers who's into cuckold humiliation or femdom forced bi, you will love this super humiliating cuckold video where a real life slave's sexy Mistress decides to fulfill his cuckold fantasies. The video includes just about every cuckold humiliation scenario you can imagine like being locked into a chastity device, made to suck cock and ask a man to fuck him while his Mistress taunts him, forced to watch while she gets fucked by a well hung stud, made to lick the cum out of her pussy — and more.
Here's a shot from one of the hottest scenes from the video.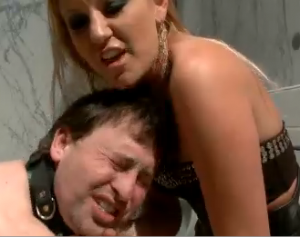 So check out the video and let it jump start your cuckold cock sucking fantasies, then give me a call.