Do you know that your favorite phone Mistress is also the top rated Flirt in the spanking phone sex section of Niteflirt? I have lots of kinky interests but my spanking fetish was my very first kinky compulsion. The others developed gradually over time but my love for blistering a man's backside hasn't diminished even a bit.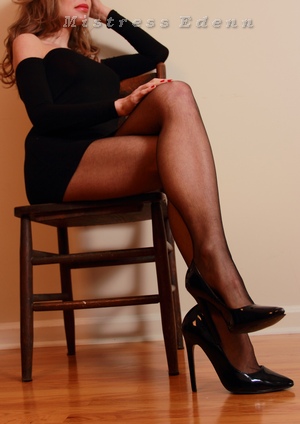 Some people think of spanking as strictly about corporal punishment and discipline, and much as I enjoy those things, there's much more to it than just that. I've introduced it to plenty of kinksters and turned them into avid spanking enthusiasts. Spanking works very well with lots of other fetishes.
It's the perfect "warm up" for strap on play. Most men seem to love the vulnerable feeling of being bent over, head down/bottom up and having their ass thoroughly reddened before being penetrated with a strap on.
There's also CFNM (clothed female/naked male). If CFNM is a turn on for you, you'll probably be aroused by being stripped naked, made to stand naked in the corner, then having to stand naked in front of your clothed female disciplinarian while being lectured, before she pulls you across her knees to be spanked naked.
Or sissy training! What naughty sissy slut doesn't fantasize about being put over her Mistress' lap for a paddling? What sissy maid doesn't dream of having to bend over and lift her frilly skirts to be caned over her panties?
Tickling too. If you have a tickling fetish,  it can be very exciting to be tightly pinned down across a woman's lap, while your bottom is alternately tickled and spanked.
Spanking can be a sexy punishment to inflict in tease and denial, orgasm control and forced masturbation games too. It can also be excitingly embarrassing for humiliation sluts, especially if I threaten to spank him in front of one of my girlfriends. Or if he's a cuckold, in front of the bull.
Whether it's disciplinary or erotic, fantasy or role play or — best of all — directing you in giving yourself a real paddling as I listen, spanking always works for me in any phone domination session.  So if you share my spanking fetish, or want to see if you can develop one, you really should give me a call.